S829 Training Synthetic Leather Sparring Boxing Gloves - 16 OZ
Select Products Online offers exercise, fitness, boxing equipment Our online store featuring over 300 products for sale under a secure connection, for all your exercise, fitness and boxing needs.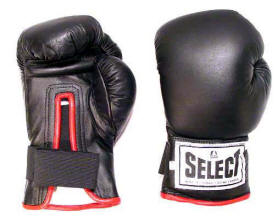 (Click Image to go Back)

S829 TRAINING SYNTHETIC LEATHER SPARRING BOXING GLOVES - 16 OZ.
Made of synthetic leather with cotton lining
Padding: Pre-curved ultra high resiliency foam topped
with 1/8 closed cell foam
Colors: Black only
Weight: 8 oz. , 10 oz., 12oz., 14 oz., 16 oz., 18 oz.
All boxing gloves come with laces or velcro closure

Made in Canada




A Note About Security:
We use Secure Socket Layer (SSL 3.0), an Internet
industry standard, and state-of-the-art encryption to
keep your credit card information secure.