Dumbbells Free Weights >> S996 Grey Hammer Toned Olympic Plates
Select Products Online offers exercise, fitness, boxing equipment Our online store featuring over 300 products for sale under a secure connection, for all your exercise, fitness and boxing needs.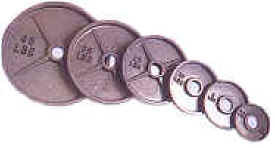 (Click Image to go Back)

S996 GREY HAMMER TONED OLYMPIC PLATE
2.5, 5, 10, 25, 35, 45 LB.

Made in Canada




A Note About Security:
We use Secure Socket Layer (SSL 3.0), an Internet
industry standard, and state-of-the-art encryption to
keep your credit card information secure.